Complaints and Points of Contact
The first step should always be to make a complaint to the respective entity. Entities are required to set up certain processes for the processing of complaints. In such cases, certain key points must always be observed. It is therefore recommended to submit a complaint in writing to the entity concerned. Such complaints may also be addressed to the senior management of an organisation.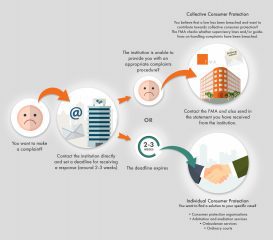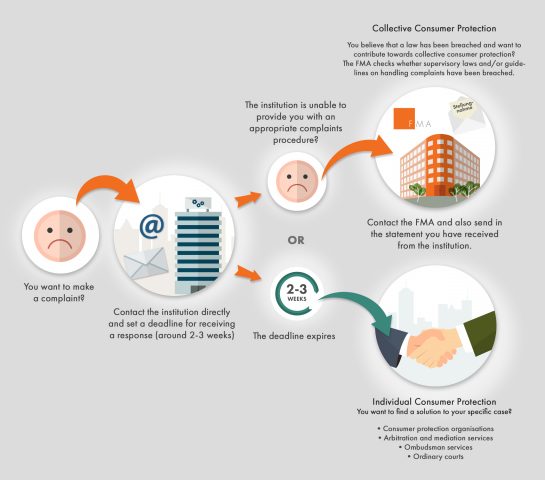 When a complaint is received, companies are obliged to:
Make information available about the complaints procedure, to publish information about the complaints procedure in an easily understandable manner, and to give clear, precise and up-to-date information about the processing of complaints, in particular in relation to how a complaint should be lodged;
To indicate the identity and contact details for a responsible contact person, as well as information about the complaint procedure (when a complaint is recognised as such, the duration of the procedure, information about the relevant competent authorities,the relevant ombudsman, the possibility of an alternative dispute settlement procedure etc.);
to communicate in clear and easy to understand language, to give a response within an appropriate timeframe, to communicate when the procedure will be concluded, and in the case of notification of a final decision having been made that does not address the demands placed by the party lodging the complaint, to justify the decision and to inform the party lodging the complaint about further options and points of contact.
If the event that you were unable to reach an agreement with the organisation through their complaints procedure, and your request was rejected, then you may turn to the FMA. In addition to the complaint submitted to the FMA, please also submit the written statement that you have received from the organisation against the complaint that you made.
Making a complaint to the FMA
Complaints are an important source of information for the FMA's supervisory, investigatory and inspection activities. Complaints are a useful source of information for the FMA to check whether a supervised entity behaves in a legally correct way towards its customers as well as whether shortcomings exist in the entity, against which the FMA can act by using supervisory measures.
The FMA takes every complaint made against a supervised entity seriously, and follows up each individual piece of information received. The FMA is not, however, a board of arbitration and is not able to take a binding decision in relation to individual disputes. This remains the sole responsibility of ordinary courts. Only orderly courts are able to resolve contrasting legal views in a binding manner and to compel the entities e.g. to pay compensation by application of a verdict.
Examination of complaints by the FMA
Complaints are in principle examined in accordance with the following procedure:
We check whether we are able to already adjudicate in your case on the basis of the details that you have provided, and the documentation that you have submitted, in particular the complaint that you have submitted as well as the submitted statement that rejects your complaint in writing, which you received from the organisation.
In order to give the company against whom the complaint has been made an opportunity to respond to the allegations, we request them to make a statement.
The company reports to us in detail and explains the reasons for its decision and submits the relevant documentation.
In the event that our checks reveal that the company's decision is not legally contestable, then we will inform you that this is the case.
In the event that there are indications that there has been a supervisory breach, we take further supervisory steps and measures, which may also lead to an administrative penal proceeding being conducted. The subsequence process is subject to official secrecy.
Official Secrecy
The bodies and employees of the FMA are obliged to maintain professional secrecy in accordance with the Federal Constitutional Act as well as the FMABG (Federal Act on the Establishment and Organisation of the FMA). This means that the bodies and employees of the FMA are obliged, under certain legal circumstances, to maintain professional secrecy with regard to all facts that they have become aware of exclusively as a result of their operational activities. We therefore request your understanding that we are unable to provide you with any more precise information about entities supervised by the FMA (e.g. information about their solvency, or ongoing legal procedures etc.).
Collective Consumer Protection
The contribution of the supervisory authority towards consumer protections takes on the forms of solvency supervision, market supervision and conduct supervision. Collective consumer protection is an important objective for the FMA. This means that the FMA protects consumers in their collective entirety. The FMA, however, is not a consumer protection organisation in its classical sense, i.e. one that is able to provide assistance for parties seeking redress as they strive to assert their demands or damage claims against a supervised entity. The FMA is therefore unable to offer protection to individual consumers. As a supervisory authority the FMA is expected to retain an objective stance towards all supervised entities and their customers, and is never allowed to take sides. Any claims for damage by consumers who have suffered losses should always be made by means of legal action through civil courts.
Information, indications or reports by consumers, investors or creditors against market participants, however, are an important source of information in relation to supervisory activities and for collective consumer protection. Furthermore, we are happy to inform you able other points of contact:
Consumer Information & Complaints at the FMA
We are available to answer your enquiries from Monday to Friday between 9:00 and 16:00.
Austrian Financial Market Authority (FMA)
Consumer Information &
Complaints
Otto-Wagner-Platz 5
A-1090 Vienna
Fax: (+43-1) 249 59-3499
Telephone: (+43-1) 249 59-3444
Here you can find the contact form for complaints: Contact Form

The independent Joint Conciliation Board of the Austrian Banking Industry
The out-of-court dispute resolution body can assist in the case of complains against Austrian credit institutions, investment fund management companies, and payment institutions, for example in relation to the following issues:
domestic and cross-border credit transfers (within the EU), deposits and withdrawals from a current account, as well as all processes related to holding such an account, use of credit cards, debit cards etc.
electronic payment instruments
banking services for consumers using means of distance communication e.g. Telephone, fax, e-mail or the Internet
consumer loans
changing the current account to another bank
investment funds
SEPA
Schlichtung für Verbrauchergeschäfte
"Schlichtung für Verbrauchergeschäfte" is the competent organisation for all consumer transactions as defined in Article 1 of the Consumer Protection Act (Konsumentenschutzgesetz). It does not, however, cover patient rights, rental contracts for apartments and houses, or cross-border consumer transactions. It cooperates closely with other existing ombudsman services (Telekom-Control, E-Control, Schienen-Control, Poststreitschlichtung, Internetombudsmann and Bankenombudsmann). The Verbraucherschlichtung is also competent as a fallback ombudsman for loans denominated in foreign currencies.
Rechtsservice- und Schlichtungsstelle des Fachverbandes der Versicherungsmakler und Berater in Versicherungsangelegenheiten
Mediates:
in the case of disputes between customers of insurance companies and insurers, where an insurance broker is involved in the process (frequently due to the insurance company rejecting to cover a claim)
in the case of disputes between customers and brokers (mainly liability issues),
in the case of disputes between brokers and insurers.
Furthermore the RSS also checks the factual elements that are undisputed from a legal perspective, delivers a recommendation to the disputing parties, and
clarifies where there is a dispute about factual elements, who is required to prove what.
Ombudsmann des Fachverbands Finanzdienstleister
It is the ombudsman for customers of companies in the financial services sector.
In the event that irregularities occur, all customers of financial service providers in Austria have the option to contact the ombudsman.
The ombudsman's main task, is to point out any errors or misunderstandings that have occurred when being given financial advice, to explain to customers what has happened, and to draw up suggested solutions together with the financial service providers.
The Ombudsmann des Fachverbands Finanzdienstleister can be reached by telephone on +43(0)5 90 900-5550 or by e-mail at [email protected]
Beschwerdestelle über Versicherungsvermittler
The Beschwerdestelle über Versicherungsvermittler (for lodging a complaint against insurance intermediaries) is housed in the Federal Ministry of Science, Research and Economy (Bundesministerium für Wissenschaft, Forschung und Wirtschaft). Pursuant to Article 365 no. 1 of the Commercial Code (GewO – Gewerbeordnung) it is required to deal with complaints about insurance intermediaries from customers and other affected parties, in particular consumer protection organisations free of charge.
Contact:
Beschwerdestelle über Versicherungsvermittler im BMWFW,
Bundesministerium für Wissenschaft, Forschung und Wirtschaft, Abt I/7
Stubenring 1, 1010 Vienna
The FMA's complaints department should also be notified by the Beschwerdestelle über Versicherungsvermittler about complaints against credit institutions and insurance undertakings as insurance intermediaries. It cooperates with comparable organisations in other Member States to settle cross-border disputes, and promotes cross-border cooperation with other complaints bodies and ombudsmen.
Datenschutzbehörde
Affected parties may contact the Datenschutzbehörde (Data Protection Authority) if their rights have been breached of if a contracting party or service provider has breached its obligations in accordance with the Data Protection Act of 2000 (DSG 2000). Different procedures exist depending on the nature of the complaint.
Contact:
Hohenstaufengasse 3
1010 Vienna
Telephone: +43 1 531 15 / 202525
Fax: +43 1 531 15 / 202690
E-Mail: [email protected]
Opening hours: If you require an appointment in relation to the procedure, please contact your case officer.
Verein für Konsumenteninformation
The VKI offers advice and assistance on consumer issues across all areas: Complaints relating to goods and services, contracts concluded in an overly-hasty manner, excessively high bills, problems with workmen and when travelling, in the case of problems with insurance companies and banks as well as issues relating to housing law. It is also possible to arrange personal appointments to receive advice.
Mariahilfer Straße 81
A-1060 Vienna
Telephone: 01/588 770
Fax – for advice: 01/588 77-71
Fax – management: 01/588 77-73
E-mail: [email protected]
Arbeiterkammer
Kammer für Arbeiter und Angestellte Wien
als Büro der Bundesarbeitskammer
Prinz-Eugen-Straße 20-22
A-1040 Vienna
Telephone: +43 1 501 65-0
E-mail: akmailbox (at) akwien.at
In addition for legal advice relating to civil law, it is also worth considering the weekly advice sessions (Amtstage) at the district courts. During these advice sessions it is possible to request legal information free of charge.
Schuldnerberatung
Main office:
ASB Schuldnerberatungen GmbH
Bockgasse 2 b
A-4020 Linz
Tel.: +43 (732) 65 65 99
Fax: +43 (732) 65 36 30
E-Mail: [email protected]
Vienna Office:
Gumpendorfer Straße 83
A-1060 Vienna
Tel.: +43 (1) 961 02 13
Fax: +43 (1) 961 02 13-44
E-Mail: [email protected]
You want a complaint about a supervised entity? The first step to take should always be to address a complaint in writing to the entity in question, so that an individually tailored solution can be found for your problem.
Note: Inform yourself about the complaints procedure before doing so.
Have you already complained to the entity and have either not received any response, or have only received an unsatisfactory response within 3-4 weeks?
You can submit your complaint here.