Prospectuses
An issuer, which publicly offers securities or intends to apply for admission to a regulated market of the Vienna Stock Exchange must prepare a comprehensive securities prospectus containing key information on the issuer and the securities to be issued. In line with the legal provisions contained in Regulation (EU) 2017/1129 and the Austrian Capital Market Act 2019 (KMG 2019; Kapitalmarktgesetz 2019), the Financial Market Authority checks these securities prospectuses for completeness, coherence and comprehensibility.
Important information about checking of prospectuses can be found here.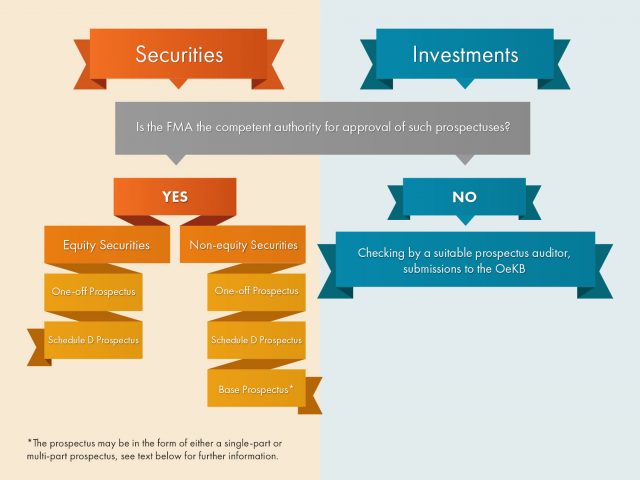 Approval by the FMA
A securities prospectus must be approved by the FMA's prospectus approval unit and must be published in a legally valid way.  The securities prospectus may be designed as either single-part or multi-part. Similarly, supplements to previously approved securities prospectuses also require approval by the FMA. Such supplements must be prepared by the issuer when important new facts occur or original inaccuracies are discovered between the approval of the prospectus and the final closure of the public offering or, if it occurs later, the opening of trading on a regulated market.
The FMA is responsible for scrutinising and approving prospectuses and supplements of any public offering of securities or their admission to trading on a regulated market of Wiener Börse AG. In addition the FMA is also responsible for the approval of a universal registration document, which allows issuers making frequent use of the capital markets to obtain the status of frequent issuers thereby permitting the time frame for prospectus approval to be shortened from ten banking days to five. Provided that the offering of securities does not exceed a total value of EUR 5 million within twelve months, a simplified prospectus may be drawn up pursuant to Annex D KMG 2019.
The correctness of the information in a securities prospectus is not the subject of the FMA's legal checking. The respective issuer assumes liability for the correctness of the information listed in a securities prospectus.
Current news
ESMA is running a public consultation process from 12.07. to 04.10.2019 in relation to the draft "Guidelines on disclosure requirements under the Prospectus Regulation" (previously CESR/ESMA Recommendations). Details about the consultation can be found here.
On 22.07.2019 the KMG 2019 was published in Federal Law Gazette I No. 62/2019, and entered into force with retrospective effect as of 21.07.2019. The FMA has published in relation to Article 24 para. 1 KMG 2019 a IMPORTANT ANNOUNCEMENT REGARDING THE NOTIFICATION TO THE NEW-ISSUE CALENDAR UND THE FILING OF THE FINAL TERMS.
On 12.07.2019 ESMA updated the Q&As on the Prospectus Regulation.
On 01.10.2019 ESMA published the Guidelines on Risk Factors under the Prospectus Regulation. The Guidelines are applied with the entry into force of Regulation (EU) 2017/1129 on 21.07.2019.
Contact
Finanzmarktaufsicht (FMA)
Division III/4 – Prudential Supervision Asset Management, Prospectuses, and Consumer Information
Otto-Wagner-Platz 5
1090 Vienna
prospektaufsicht@fma.gv.at
Further information:
Obligation to produce a prospectus
Universal registration document