As an integrated supervisory authority established in 2002, the Financial Market Authority brings together the supervision of all significant providers and functions under a single roof.

On the one hand the Financial Market Authority supervises banks, insurance undertakings, Pensionskassen (pension companies), corporate provision funds, investment firms and investment services providers, investment funds, financial conglomerates and stock exchange companies. On the other hand it also monitors compliance with legal requirements, fairness and transparency in relation to trading of stock-exchange listed securities (the supervision of markets and stock exchanges); that for securities that are to be offered to the public that comprehensive prospectuses are issued that portray the opportunities and risks associated with the investment in an appropriate manner (supervision of capital market prospectuses); that the principles of good governance and orderly advice are adhered to (supervision of compliance and rules of conduct); that the unauthorised offering and provision of financial services is prohibited and punished; and that all financial institutions have the necessary systems in place to work preventively in relation to money laundering and terrorist financing.

In 2020, the FMA supervised:
543 credit institutions
8 corporate provision funds
79 insurance undertakings
8 Pensionskassen
64 investment firms and 48 investment services providers
9.352 foreign funds, which are marketed in Austria
2.018 Austrian investment funds managed by 14 investment fund management companies (of which 13 licensed as AIFMs), 5 companies exclusively licensed as AIFMs, as well as 31 registered AIFM
5 real estate investment fund management companies (at the same time AIFMs)
1.340 issuers with 14.585 listed securities as well as 59,19 million notified transactions
"One-Stop-Shopping"
As an integrated supervisory authority, the Financial Market Authority enables "One-Stop-Shopping", so that all procedures to be conducted by the authorities can be handled under one roof. As an authority the Financial Market Authority has sovereignty: It is able to issue binding standards, like regulations and administrative decisions, to take coercive measures, such as withdrawing licences, to remove directors or to impose administrative penalties (in the case of natural persons of up to Euro 5 million, in the case of legal persons up to Euro 10 million or up to 15% of total net turnover (in the event that such an amount is greater than Euro 10 million)). It accompanies supervised entities across their entire lifecycle: from granting a licence, which authorises them to commence business operations, followed by ongoing supervision throughout their business activities, through to their liquidation, removal or surrendering of their licence.
The advantages of integrated supervision
There are convincing advantages for integrated supervision – it is the structure of the future for the Austrian financial market.
An integrated supervisory authority is faced with a strongly interlinked financial market in Austria
Cross-sector microprudential and macroprudential supervision allow a consistent approach to risk analysis backed up by effective measures
The integrated approach also permits a coordinated approach in shaping European and international supervisory law
Conduct supervision and prudential supervision under a single roof are the keystone for effective supervision and the consideration of all causal links.
A detailed statement on integrated supervision in Austria is available here to download.
The hierarchy of supervision
Every efficient and effective supervisory authority builds upon the work of upstream supervisory authorities. This is known as "the hierarchy of supervision". The internal audit division of a financial institution is the first level of monitoring and control, the supervisory board and the auditors are the second level, which although appointed by the entity are filled with independent external experts. The governmental supervisory authority only emerges as the third level. Read more
In Austria, the supervision of the financial markets is performed by three institutions. In general terms: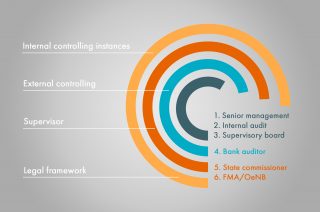 it develops and defines the legal framework conditions together with the Federal Ministry of Finance (BMF), which are then passed through the Austrian parliament (legislation);
the Oesterreichische Nationalbank (OeNB) monitors the stability of the financial market as a whole (macro supervision), and is responsible for the supervision of payment and settlement systems, as well as being involved in banking supervision and
the Financial Market Authority (FMA) monitors and controls the individual financial institutions and players (micro supervision).
All three institutions cooperate closely in an integrated way with one another and collectively form the Austrian system for the supervision of the financial market.
International cooperation
The FMA works in many international, particularly European, committees to draw up common supervisory standards and in so doing to represent the interests of Austria as a financial marketplace. In light of the globalisation of the financial economy, the intensification of international cooperation within operative supervision is becoming increasingly significant.
Our staff members act in an environmentally conscious manner with regard to energy consumption, using of materials, or good practices in relation to waste, in order to ensure that our ecological footprint is kept as small as possible. For example:
Paper consumption has been dramatically reduced by using an electronic file management system. Paper towels used in restrooms are made of specially certified paper that is recycled and produced in an environmentally friendly manner. Consumption of materials is kept to a minimum.
In order to save energy, all lighting elements throughout the premises use either LED lamps or fluorescent bulbs as well as motion sensors. The large number of windows in the FMA's premises allow us to make use of daylight in offices, which contributes considerably to savings of electricity consumed. Clean power is sourced from wind energy and hydroelectric power.
The FMA places particular store on the separation of waste into plastic, paper, residual waste and biodegradable waste, and this is regularly checked by a waste management officer.
Storage facilities for bicycles and scooters at our premises, as well as the FMA's proximity to public transport services, provide our staff members with ways of commuting other than by car.
The measures listed above are only a few of the measures taken to ensure office-base work is performed in a more sustainable manner, while assuming responsibility for our environment.